The Heiress
"I wonder how many of us realize the fact that 40% of people in the USA could not handle 400 dollars emergency spending (!!) Should it happen to them; they would have to go into debt or sell something." These words come from a Yahoo interview given by Abigail Disney, the heiress of a huge fortune of her grandfather Walt Disney and his brother Roy, creators of (among others) famous cartoon movies, as well as theme parks and recreation spaces sporting a common world-known brand name Disneyland. Not too long ago, at the invitation of one of the service workers Abigail went undercover and visited the Disneyland theme park in Anaheim, California, there she saw the current work conditions. Sure, she realized the conditions are quite poor, but why to that extent? "My grandfather and father taught me to revere those people that take your ticket, pour your soda, that scrape bubble gum from the sidewalk." It is thanks to such people; the visitors enter clean and well-kept park. Once upon a time - about fifty years ago - my father gave our people a job for life, with a health plan, retirement benefits and paid vacation." Now that is the forgotten past. It might seem to many, a sentimental whim, but one spring day Abigail Disney - admittedly, in a disguise - joined a picket line of Disney corporation workers claiming human, decent pay for good, decently done work.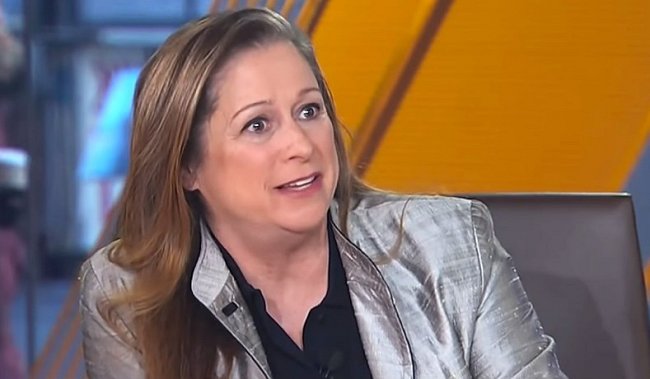 Abigail Disney readily admits she comes from a very conservative family, but she abruptly broke the link the moment she started her college studies. She confirms that still prior to her leaving the parents' home, her behavior did not fit the stereotype. "They were trying to fit each of us in a mold. It did not work with me. When I began my studies I felt as if I were released from prison. For the heiress of the Disney estate the ensuing period of student protests and demonstrations has practically never ended. Asked by a journalist why Abigail is so critical of the fact of possessing a huge fortune, she replies "But I am not criticizing being wealthy. I am only not being comfortable when there is evident disparity - a true bottomless precipice dividing us all.
After a protest action in Anaheim, the corporation CEO Bob Iger received a long e-mail letter from the controversial co-owner. Its gist was expressed in three simple sentences.: "You are a fantastic manager, possibly the best in the country. In your hands you wield the power to leave the part of the world that depends on you, in much better shape. Do you realize that your earnings are well over one thousand times higher than those of the Disney low-level personnel members? Did you get an answer? - asks the interviewer. So far, no - replies Abigail. Anyone who knows her, is aware of her main demand which has consisted in considerable cuts of various perks (those ill-famed "bonuses") on the top of the corporate pyramid simultaneously accompanied by pay raises to the worst-paid staff members. In case of Bob Iger his bonus amounted to 66,5 million dollars. It was calculated that should there be a 50% bonus cut, it would still be possible for top management to pocket millions of dollars. So, what are they up to? Most often they fear to upset the current system that has been working with a precision of a Swiss watch for at least the last 300 years. Both parties - they and we - know very well the answer to the question what is going to happen to a block pyramid when one of the blocks at the bottom is removed. Apart from her philanthropic and charity work, Abigail Disney is a well-established documentary filmmaker, and film critic, in her works touching upon a subject of universal mounting of social injustice.
Our lady-billionaire, for a long time self-described progressive Democrat, proceeds in her ideas still much further. Recently she joined a group of George's Soros and twelve billionaire families sending an open letter to the IRS (Internal Revenue Service) with a request to raise their taxes. "I have more than I need" - maintains Ms. Disney with a palpable conviction. "Our tax system needs a structural change". Although it has been a long time since she turned twenty, Ms. Disney severely evaluates two main Democratic presidential candidates: Joe Biden and Bernie Sanders. They both look to her as if they were from different epoch, hence she has no qualms saying: "In 2020 we will need someone young, new and entirely different. That is a must."

Michał Stefański


Michal Stefanski - radio and press media journalist, American Studies graduate. For over 25 years he has been a columnist in the Polish-language programs on CFMB - 1280AM broadcast from Montreal. He has also been an occasional contributor to "Gazeta Wyborcza" in Warsaw, as well as the to Toronto-based Polish weekly "Gazeta". He had also his column in the Montreal "Biuletyn Polski". He has a cat named Zuzia.