Anthropocentrism: the belief that human beings are the most important entity in the universe
"The greatness of a nation can be judged by the way its animals are treated" - Mahatma Gandhi
Anthropocentrism is considered to be profoundly embedded in many modern cultures and conscious acts. In the fields of environmental ethics and environmental philosophy, it's considered to be the root cause of problems created by humans in the ecosphere.
In Dr. David Suzuki's exploration of the Old Testament in a 1985 CBC series "A Planet for the Taking", he points to the particular verse 1:26 in the Book of Genesis, that launched our attitude of superiority over our fellow creatures: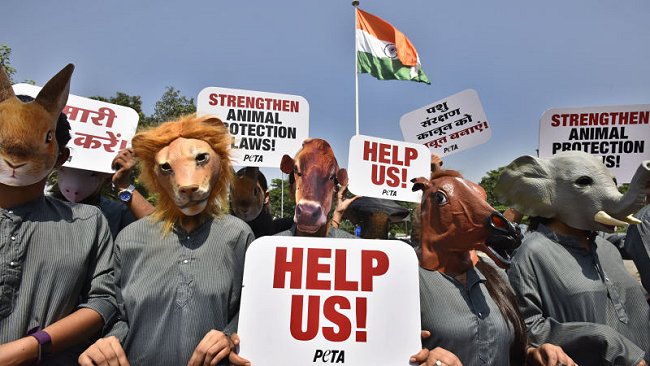 "And God said, let us make man in our image, after our likeness: and let them have dominion over the fish of the sea, and over the fowl of the air, and over the cattle, and over all the earth, and over every creeping thing that creepeth upon the earth."
The use of the word "dominion" is controversial. Many biblical scholars, especially Roman Catholics, consider this to be a flawed translation of the word meaning "stewardship", which indicates a position more of humans caring for the earth and all various forms of life, not lording over them and abusing them.
A simple changing of the word from "dominion" to "stewardship" could have altered our attitude and the nature of our relationship with our planet and fellow species. We can only imagine a world where our lives are a fulfillment of providing stewardship and caregiving for all. We would be of the attitude that, as PETA (People for the Ethical Treatment of Animals) say, "animals are not ours to experiment on, eat, wear, or use for entertainment. or abuse in any other way ."
Founded in 1980, PETA is dedicated to establishing and defending the rights of all animals. PETA believes that animals, like you, are capable of suffering and have an interest in leading their own lives. The very heart of all of PETA's actions is the idea that it is the right of all beings, human and non human alike -- to be free from harm. They focus on animals in laboratories, on factory farms, in the clothing trade, and in the entertainment industry. They believe we can eat better, clothe ourselves better, and entertain ourselves better without torturing and killing animals.
Animals used for laboratory testing is on the decline globally as the result of better and more humane test models becoming available, as well as unfavorable public opinion of the practice. Avon, Revlon, and Faberge have all abandoned animal testing, and Mary Kay and Amway have declared a moratorium on the practice. The NIH (National Institute of Health) has ended its support and invasive research on chimpanzees, ending their abuse of 50 chimps. And Jungle Friends Primate Sanctuary in Gainesville, Florida has welcomed hundreds of new world monkeys from various university labs across the country, as they are released and the labs are closed for good.
Shutting down factory farming, which destroys the environment as well as provides endless misery for the animals, is being met head-on by big investors: Y Combinator (who backed AirBnb, Reddit, Dropbox and Instacart) has already begun working with 132 new startups including Spero Foods, which makes plant-based cheese and eggs, Mylk Guys, Seattle Food Tech, known for their vegan chicken nuggets and Cytera CellWorks, who are assisting the laboratory work involving the automation of cell cultures for clean meat, more commonly known as "lab-grown meat."
And the public is ready and responding with their buying habits and consumer dollars: Forbes magazine reports sales of plant-based alternatives to meat, seafood, milk and other dairy products has booked another year of double-digit growth in the US as companies both large and small create beefier plant based burgers, improved vegan cheeses, and launched new dairy free ice creams flavors. US retail sales of plant based foods grew 11.3% this past year, compared to only 2% rise in overall food sales. A study commissioned by the Good Food Institute and the Plant Based Foods Association reports that plant based sales were up 31.3% in the 2 year period from April 2017-April 2019, totaling nearly $4.5 billion USD. Of that, $1,9 billion of it is in plant based milks, making it the top selling plant based category.
Our clothing habits are changing, too: Macy's Bloomingdale's will stop selling fur by February 2021. Retailers Prada, Versace, and Coach already have. Fur farming has now been banned in Austria, Bosnia and Herzegovina, Belgium, Croatia, Czech Republic, Luxembourg, the Netherlands, Northern Ireland, Republic of Macedonia, Serbia, Slovenia, and the UK. Norway will join them in a fur farm ban by 2025. Even 93 year old Queen Elizabeth has stopped buying clothing made with animal fur.
The entertainment industry is changing in a big way, too. "The Greatest Show on Earth", Barnum and Bailey's Circus closed May of 2017 after 146 years of forcing animals into confinement and performing under grueling conditions and violent abuse.
As of last year, Canada's Parliament has passed legislation banning whales, dolphins, and porpoises from being bred or held in captivity. Violations risk heavy fines: up to $200,000 CAD. At SeaWorld Park in San Diego, California attendance has plunged by over half a million visitors in the past couple of years. The 2013 documentary "Blackfish" sparked public outcry over SeaWorld's treatment of orca whales, and the theme park has been suffering ever since. They lost $1.7 billion in market capitalization the year the film was released due to plummeting attendance and losing lucrative corporate sponsorships. To that end, theatrical orca shows ended at SeaWorld in San Diego in 2017, and in Orlando, Florida and San Antonio, Texas parks in 2019.
Perhaps we have finally discovered the true meaning of Verse 1:26 in the Book of Genesis, and are accepting our role as stewardship of the planet, moving us away from anthropocentrism. Hopefully the new decade will bring us even closer to that end. Having compassion for all our fellow creatures speaks volumes about us and what we are.

Cherie Erwin


Cherie Erwin is an Animal Rights Activist and has worked as a Caregiver for New World Monkeys at Jungle Friends Primate Sanctuary in Florida. She's been vegetarian for 46 years. She received her Vegan Chef training and Diploma from the Vegan Society in the U.K. She built, owned, and operated TV stations in Hawaii and California, and produced television programming for satellite television. Now, she lives with her 18 year old cat Else, and the whales and eagles on Whidbey Island, just across the border from Vancover Island, B.C. / [email protected]